We are Nautech
With skills and expertise built over 30 years, our clients trust us to deliver the high-quality electronic solutions they need.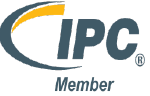 Our Vision
To use the latest technology and Kiwi ingenuity to be a world leader in electronics manufacturing and product engineering
Our Mission
To design and manufacture high-quality products, built on the foundations of innovation, integrity and collaboration with our customers and staff
Our Values
DYNAMIC
We embrace change, flexibility and innovation
DEDICATED
We form long term partnerships and strive for customer success
DEPENDABLE
We deliver exceptional quality and service
Quality Products Quality Service
We're proud to bring our clients the opportunity to design and manufacture world-class products, right here in New Zealand.
With an innovative and collaborative approach, we focus on excellent service, reliable delivery, IP protection and competitive pricing. Our engineering support and turn-key service is second to none.
Meet the Team
Andrew Turner
Managing Director / Owner
Andrew and his wife, Alison, started Nautech back in 1989 – the same year Andrew won the Bronze medal for NZ in Electronics at the World Youth Skill Olympics. In the 32 years since, Andrew has been instrumental in Nautech growing from the spare room of their Howick home, into a world-class electronics manufacturing company.

Today, Andrew oversees finance, admin, and engineering. As an Engineer, he enjoys keeping up with latest technology, and is dedicated to increasing automation and efficiency throughout the business.
Alison Turner
HR Director / Owner
Alison has been part of Nautech since its earliest days, when she and Andrew first started modifying units on their kitchen bench in 1989. Alison spent Nautech's first 20 years taking care of the financial, HR, and administrative side of the business – even soldering circuit boards while the company first found its feet. She's now stepped back from Nautech's day-to-day HR operations, but is still fully involved at a senior management level.

Alison has always had the ability to find the positive in every situation. She sees any challenges and roadblocks as new opportunities to improve. Alison is incredibly proud of the whole Nautech family, and everything they've achieved. She looks forward to seeing what they'll achieve together next.
Laurie Kubiak
Chief Executive Officer
Laurie joined the Nautech team as General Manager in 2021. He makes sure that Nautech's overall operations are working together efficiently and effectively, and that both our current and future customers love the work we do.

Laurie spent much of his career overseas, with corporate roles in Energy, Telco, IT and Consultancy, before heading back home to New Zealand and joining Nautech. With vast experience in general management and business development, Laurie brings a wealth of knowledge to the business. He loves being part of a team that makes real products for real people, and is proud to be associated with a Kiwi success story like Nautech.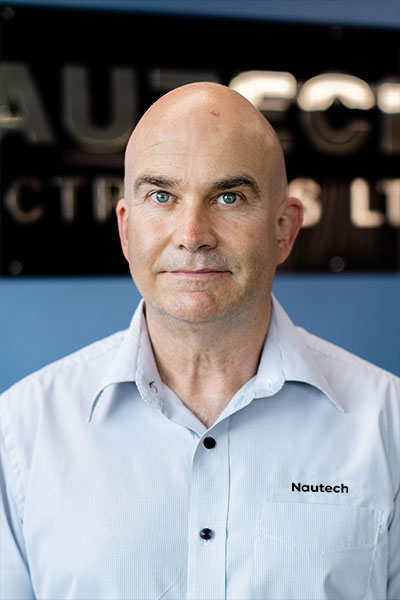 Rob Grimsey
Head of Sales and Business Development
Rob came on board the Nautech team in 2021. As our Head of Sales and Business Development, he's responsible for making sure the sales team has everything they need to provide our customers with the outstanding service they've come to expect.

Rob has been in the electronic manufacturing industry since 1997. With a background in technical, sales and management, he's worked across a wide range of sectors – including Defence, aviation, telecommunications, and healthcare and consumer electronics.

Here at Nautech, Rob is always on the lookout for new ways to add value to our customers' businesses, while at the same time providing a safe and enjoyable working environment for our team.
Rodney Grainger
Engineering Manager
Rodney has worked at Nautech for a decade. After finishing university and a stint in the army, Rodney spent the better part of 30 years working in product development across a wide range of industries.

At Nautech, Rodney is responsible for managing and participating in the R & D team, who design and develop both customer products and Nautech's own product range. With special expertise in embedded firmware and electronic hardware design, he enjoys the opportunity to see products go from the early design stages, right through to the finished product.
David Bacon
Head of Process and Operations
David has been with Nautech for more than 20 years. He oversees Operations, working to ensure maximum efficiency across all manufacturing processes.

Having held a number of roles at Nautech, David has in-depth knowledge of just about every department. This has given him the ability to see connections between tasks and functions, and identify areas for improvement.

David's career highlights include traveling to Saudi Arabia to install police equipment in a trial vehicle, and helping develop customer products to commercial reality.
Preston Pillay
Production Manager
Preston has been a Production Manager at Nautech for 3 and a half years. He ensures all our production lines and machines run smoothly and efficiently, and produce outputs of the very highest quality.

Preston studied Electrical Engineering in South Africa, and has 14 years' experience in electronic manufacturing. A keen problem-solver and analytical thinker, Preston is a lean manufacturing specialist.

When it comes to working at Nautech, Preston enjoys the access to state-of-the-art machinery and cutting edge technology – but his favourite thing of all is the great people he works with.
Simran Singh
Purchasing & Planning Manager
Simran leads and oversees the Purchasing and Planning functions at Nautech. He ensures the team has the components they need to see a project through to completion on schedule.

Simran has a Bachelor of Engineering Technology (Major in Electronics) from AUT. He's been with Nautech for the past three years, taking care of sourcing components, stock analysis, and production planning. For Simran, being part of an organisation that's investing in the best technology is incredibly rewarding. He enjoys helping the team make great use of it, creating high-quality solutions for clients in the process.
Alexandra Spence
Head of People and Capability
As Nautech's HR Manager, Alex is responsible for looking after the team, and helping them reach their full potential. She has a knack for creating culture and engagement strategies, and the ability to recruit the best and brightest for the job.

After graduating with a Diploma in Business and Management, Alex worked in Sales and Customer Service Management, before finding her true calling in HR. Alex has been with Nautech for almost seven years now, and enjoys being part of a great team of people that creates great outcomes for clients.
Graham Wyllie
Head of ICT
Graham has been in the industry for 30 years, and has spent the last eight of those years at Nautech. He makes sure our computer systems operate efficiently and effectively, and implements and maintains all the company's computing needs.

Graham started his career as a software developer, before moving into infrastructure contracting and consultancy, then ICT manager roles in the SMB sector. Having project-managed the installation of IT infrastructure for major commercial and retail developments, he's no stranger to handling large and complex projects. An experienced problem solver, Graham enjoys the fast-paced and dynamic environment here at Nautech.
Charito Diente
Quality Manager
Charito has been responsible for managing and maintaining Nautech's Quality Management System for more than 14 years. She also manages our Corrective and Preventive Action Request system and ensures quality standards are met.

With a background in electronics and communications, Chat, as she likes to be known, is well skilled in all aspects of our processes. She enjoys the family atmosphere at Nautech, and working as part of a close knit team.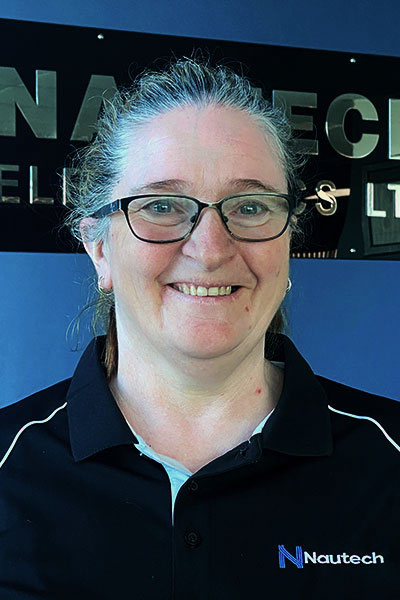 Diane McEwen
Inventory Manager
Diane started at Nautech in January 2022, coming in at a time of huge change and expansion for our Inventory team.

With a background in warehousing and logistics, Diane is passionate about the detail, keeping things well organised, and running an efficient and happy team. She makes sure all our stock is handled and stored according to required standards and ready for Production when needed. Diane takes a positive approach to everything she does and together with her team, provides great service to her customers.
Jay Patel
Production Engineering Manager
Jay has a Bachelor's degree in Engineering Technology from AUT and has worked at Nautech for almost 5 years, in a number of different roles.

In his current position, Jay oversees our Production Engineering team looking after machinery and equipment maintenance, the introduction of new products, continuous improvement of processes and increasing automation and efficiency. Jay is a keen problem solver and loves to learn about new technologies. He enjoys working at Nautech for the variety that every day brings along with the great people and culture.
Interested in joining the Nautech team?